Dust Collection Bag
We Manufacture and Supply all types Dust Collection Bags of Standard & Customized Sizes Bags. Our Experienced engineers add value by selecting right kind of Filter media for any given application. With our technical associates world over, we ensure right solution to all your filtration needs. We offer fabric filter bags in various media such as Acrylic, Polyester, Nomex, Glass Fiber, Homo-polymer, Co Polymer, POlypropylene, Ryton, Teflon, P-84 Polyamide etc.
ABR ENviro's Filter Bags has high Quality, high value filter bag for your requirement.
Product Details
Typical bag houses have cylindrical bags hanging vertically in the unit , representing a critical component of operation. Correct bag fabric and design is an important aspect to achieve for maximum filtration efficiency, cake release and durability.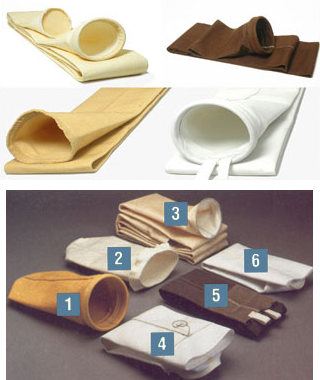 Media
| | |
| --- | --- |
| Polyester | Polypropylene |
| Aramid | Nomex |
| Acrylic | Fiber glass |
| P 84 | Teflon |
Size
Standard & Customized With Woven & Non woven construction
| Filter Media | Max Operating temperature | Chemical Resistance | Resistance to flexing (pulsing) | Moister regain % |
| --- | --- | --- | --- | --- |
| Filter Media | Max Operating temperature | Chemical Resistance | Resistance to flexing (pulsing) | Moister categories |
| Polyester | 130 C | Poor | Good | Good |
| Polypropylene | 80 C | Good | Very Good | Excellent |
| Nomex | 205 C | Poor resistance to acid & water | Very Good | Good |
| P-84 Polyamide | 240 C | Good | Good | Good |
| Acrylic (Co-polymer) | 130 C | Good | Very good | Excellent |
| Acrylic (Homopolymer) | 150 C | Very Good | Good | Excellent |
| Fiber Glass | 260 C | Very Good resistance to acid & water | Poor | Excellent |
| Ryton | 190 C | Excellent resistance to all chemicals expect oxygen | Very good | Poor |
| Teflon | 290 C | Excellent resistance to all chemicals expect oxygen | Very good | Excellent |