Perforated sheet/PDPL
We put all kinds of holes in all kinds of materials . . . and we do it to precision tolerances.
Holes, in patterns with staggered centers or straight centers; in sheets, plates or coils - we do it all.
We can perforate up to 1250mm wide coils and 8.00mm thick in steel, aluminum, stainless, most alloys, plastics and P.V.C.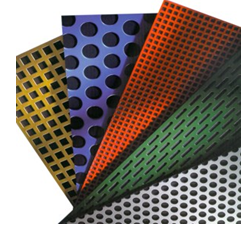 Typical applications include cloths dryers, noise abatement components for jet engine nacelles, acoustical panels, covers for electronic and telecommunications equipment, protective guards, surgical trays, filtration components, hammer mill screens, conveyor flights and more.