Reverse Air Bag House
Situations demanding high gas volume (more than 100000 m3/hr) necessitate use of a different technology, Reverse Air Bag House with Filter Bags being cleaned using counter flow of Gases from opposite direction. This system is largely used world over in various applications like Cement Kiln, Large Boilers in Power Plants, and Fumes Extractions in Steel industry etc. We can undertake the complete project on turn key basis thus saving your precious time with efficient on-time execution of project.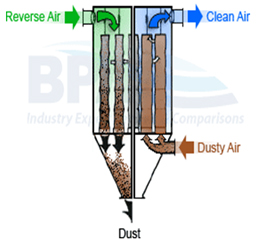 Product Details
Also known as the reverse blower dust collector, the reverse air cleaning baghouse collects dust which forms regularly forms into a hard 'dust cake' on the dirty side of the filter bag. This type of a dust collector uses high-pressure 'cleaning' air, blown in the 'reverse' or opposite direction of the dust laden stream, to clean the dust cake. Also called high pressure reverse fan cleaning, these models are continuous or 'online' cleaning dust collectors and mitigate the drawbacks of the 'offline' collectors. In these collectors, cleaning could be done continuously without interrupting the process and the numerous compartments that featured in the offline dust collectors were done away with.
In a reverse fan cleaning dust collector, polluted air enters the filter bags from the inlet at the bottom and passes through the inside of the bag. Dust particles collect on the walls of the bag. A chain driven motor powered traveling manifold moves across the mouth of the envelope filter bags to provide the cleaning air. The flexing of the collecting bags causes the dust cake to crack and fall into the hopper. The reverse air stream can be used to clean one bag or one row of bags at a time.