Cartridge Filter System
We can design compact dry air Filtration System using pleated cartridge elements thus resulting in space and cost savings at the same time delivering effective filtration performance. We have supplied numerous Cartridge Filter System using Pulse Jet technology for various applications and gas volumes ranging from 500 m3/hr to 10000 m3/hr. These units are custom designed to meet the site constraints and application requirement.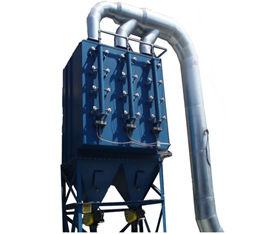 Product Details
efficiencies that are particularly important for applications involving toxic dusts or where air is being re-circulated. A cartridge collector is quite compact relative to the amount of airflow passing through them because of the large amount of media contained in each cartridge.
Cartridge collectors present minimal safety risks to workers changing the elements because they do not have to enter the collector to remove the filters. They remain in an outside "fresh air" environment, where their lungs, skin, and clothing have very little contact with dust inside the collector. Pulsejet bags cartridges can be replaced quickly and workers are not exposed to the dusts. ABR enviro collectors and cartridges are engineered to work together as an integrated system.